Baldur's Gate & Icewind Dale - All games complete plus extr
Type:

Files:

Size:

12.18 GiB (13078339094 Bytes)



Tag(s):

Black Isle Baldur's Gate Tales of the Sword Coast Shadows of Amn Throne of Bhaal Icewind Dale Heart of Winter Icewind Dale II



Uploaded:

2012-01-04 07:43:42 GMT

By:

rambam1776



Seeders:

18

Leechers:

13

Comments

11




Info Hash:

57003394C90FC13656E02722072B11F7D520F606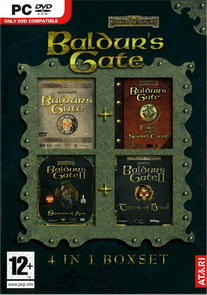 (Problems with magnets links are fixed by upgrading your
torrent client
!)
Baldur's Gate & Icewind Dale Torrent Notes

This Torrent contains:

1 – Image Files (just burn to CD and DVD, or mount) of ALL of the Black Isle Baldur's Gate and Icewind Dale games, including Baldur's Gate, Tales of the Sword Coast, Shadows of Amn, Throne of Bhaal, Icewind Dale, Heart of Winter, and Icewind Dale II.

2 – All of the dusty old mods, patches, portraits, sound files, and cheaters that have been sitting in my BLACK ISLE STUFF file for over a decade. Some of this stuff can still be found here and there on the internet if you search for it, but all of the old modding communities and sites have long since died away. It is just one stop shopping if you get this torrent.

3 – The brilliant Dan Simpson walkthroughs converted over to WORD files. These also include full notes on the various cheat codes and how to complete all the strongholds and character romances.

NOTE – These games are from 1998-2001, and were not built for modern 64 bit computers. This leads to some issues in getting this or that mod or editor to work. I've had some success with some, and total failure with others. Your best bet is to run a Google search and dig through some old forums if your modern system has issues with anything. However, I have tested all the image burns, and all of them work on a modern PC running Windows 7 64 bit. I've got all of them loaded on both my Compaq tower and my HP Laptop with no issues, so they should work just fine for you. There are no passwords to enter. Don't bother registering or updating, since the original company and their website have long since gone out of business.

For the younger users, give these a shot, especially Shadows of Amn. The graphics are not modern, but the voice acting and care that went into scripting the story is MILES ahead of the cheesy garbage that has become normal today. This is one of those old classics that will be remembered for a long time.