Judgment at Nuremberg (1961) DVD5 NTSC ISO Complete
Type:

Files:

Size:

4.2 GiB (4510385028 Bytes)



Info:

Spoken language(s):

English

Texted language(s):

English, French, Spanish

Tag(s):

History WWII Stanley Kramer Spencer Tracy Burt Lancaster Richard Widmark Marlene Dietrich Maximillian Schell Judy Garland



Uploaded:

2011-01-27 04:20:34 GMT

By:

rambam1776



Seeders:

0

Leechers:

2

Comments

1




Info Hash:

EC50A60239529D2480096913159C936BE83852FC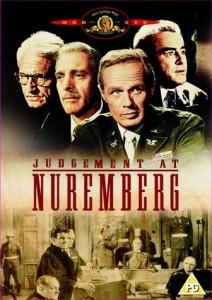 (Problems with magnets links are fixed by upgrading your
torrent client
!)
Judgment at Nuremberg.iso

Video Codec..........: MPEG-2 
Video Bitrate........: 4131kbps 
Duration.............: 2:25:47
Resolution...........: 720*480 
Framerate............: 29.970 
Filesize.............: 4,510,351,360
Subtitles............: English, French, Spanish 
 
http://bayimg.com/FADjcaaDi
 
http://www.imdb.com/title/tt0055031/
 
http://en.wikipedia.org/wiki/Judgment_at_Nuremberg

CAST
Stanley Kramer 		- DIRECTOR

Spencer Tracy 		- Judge Dan Haywood
Burt Lancaster 		- Ernst Janning
Richard Widmark 	- Col. Tad Lawson
Marlene Dietrich 	- Mme. Bertholt
Maximilian Schell 	- Hans Rolfe
Judy Garland 		- Irene Hoffman
Montgomery Clift 	- Rudolph Petersen
Werner Klemperer 	- Emil Hahn
Edward Binns 		- Sen. Burkette
William Shatner 	- Capt. Harrison Byers
Kenneth MacKenna 	- Judge Kenneth Norris
Torben Meyer 		- Werner Lammpe
Ray Teal 		- Judge Curtiss Ives
Martin Brandt 		- Friedrich Hofstetter
Virginia Christine 	- Mrs. Halbestadt
Ben Wright 		- Halbestadt
Joseph E. Bernard 	- Maj. Abe Radnitz
John Wengraf 		- Dr. Wieck

Judgment at Nuremberg is a 1961 fictionalized film account of the post-World War II Nuremberg Trials. It was written by Abby Mann, directed by Stanley Kramer, and starred Spencer Tracy, Burt Lancaster, Richard Widmark, Maximilian Schell, Werner Klemperer, Marlene Dietrich, Judy Garland, William Shatner and Montgomery Clift. An earlier adaptation had been broadcast as a television movie. It was among the first films to be made about the Holocaust.

The film depicts the trial of certain judges who served during the Nazi regime in Germany. The film was inspired by the Judges' Trial before the Nuremberg Military Tribunal in 1947, where four of the defendants were sentenced to life in prison. A key thread in the film's plot involves a "race defilement" trial known as the "Feldenstein case". In this fictionalized case, based on the real life Katzenberger Trial, an elderly Jewish man was tried for an improper relationship with an "Aryan" woman, and put to death in 1942.

Synopsis

Judgment at Nuremberg centers around a military tribunal in which four judges are accused of crimes against humanity for their actions during the Nazi regime. Judge Dan Haywood (Spencer Tracy), the chief justice in the case, attempts to understand how defendant Ernst Janning (Burt Lancaster) could have passed sentences resulting in genocide, and by extension how the German people could have turned blind eyes and deaf ears to the Holocaust. Doing so, he befriends the widow (Marlene Dietrich) of a German general and talks with a number of Germans with different perspectives on the war. Other characters the Judge meets are U.S. Army Captain Byers (William Shatner), who is assigned to the American party hearing the cases, and Irene Wallner (Judy Garland), who is afraid to bring testimony that may turn the case against the judges in favor of the prosecution.

The film examines the questions of individual complicity in crimes committed by the state. For example, defense attorney Hans Rolfe (Maximilian Schell) raises such issues as the support of U.S. Supreme Court justice Oliver Wendell Holmes Jr. for eugenics practices, the Hitler-Vatican Reichskonkordat in 1933, the Nazi-Soviet Pact in 1939 that allowed Hitler to start World War II and Winston Churchill's praising of Adolf Hitler. In the end, Janning makes a statement condemning himself and his fellow defendants for "going along" with the Third Reich and all four are found guilty and sentenced to life in prison.

The film is notable for showing actual historical footage filmed by American soldiers after the liberation of the Nazi concentration camps. Shown in court by prosecuting attorney Colonel Tad Lawson (Richard Widmark), the footage of huge piles of naked corpses laid out in rows and bulldozed into large pits was exceptionally gruesome for a mainstream film of its day.

The film ends with Haywood's having to choose between patriotism and justice. He rejects the call to let the Nazi judges off lightly to gain Germany's support in the Cold War against the Soviet Union.