Standup - David Spade - Take The Hit - 1998 HBO Comedy Special
Jenis:

Fail:

Saiz:

404.5 MiB (424146488 Bytes)



Info:

Tag(s):




Di muat-naik:

2010-01-17 02:21:09 GMT

Daripada:

rambam1776



Penyemai:

5

Penyedut:

2

Komen

4




Info Hash:

DF33AB5D1E920BCB7D5C7A134997043218BC5B28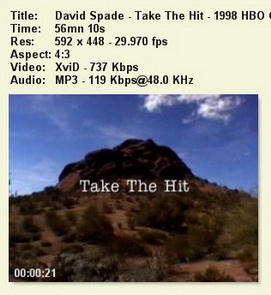 (Problems with magnets links are fixed by upgrading your
torrent client
!)
David Spade - Take The Hit - 1998 HBO Comedy Special 

Video Codec..........: XviD ISO MPEG-4 
Video Bitrate........: 736kbps 
Duration.............: 56:10.034
Resolution...........: 592*448 
Framerate............: 29.970 
Audio Codec..........: 0x0055 MPEG-1 Layer 3 
Audio Bitrate........: 119 kbps VBR 
Audio Channels.......: 2

NOTE - No subtitles or extras. I have included a 128 kbps mp3 rip so folks can listen on their mp3 players. 

 
http://us.imdb.com/title/tt0233528/
 
http://en.wikipedia.org/wiki/David_Spade


David Wayne Spade (born July 22, 1964) is an American actor, comedian and television personality who first became famous in the 1990s as a cast member on Saturday Night Live, and from 1997 until 2003 starred as Dennis Finch on Just Shoot Me!. He also starred as C.J. Barnes, along with Katey Sagal and James Garner on 8 Simple Rules. He currently stars as Russell Dunbar on the CBS sitcom Rules of Engagement.


With the help of friend and fellow comedian Dennis Miller, he joined Saturday Night Live in 1990 as a regular cast member and writer. Here, he made popular his well-known sarcastic, smart aleck characters in a number of sketches, some of which include: a flight attendant who bids an unpleasant "Buh-Bye" to each passenger as they disembark; a receptionist for Dick Clark who, as a matter of policy, asks even the most recognizable face "And you are?"; and, most famously, the bitingly sarcastic "Hollywood Minute" reporter who assaults celebrities with a series of one-liners. Other characters include Christy Henderson from the Gap Girls, and Karl from the Karl's Video sketches. He has also done impressions of famous celebrities, such as Brad Pitt and Michael J. Fox. According to interviews with Spade, most of the material that he wrote early on was given to Dana Carvey to perform on the show. Due to his relatively low work rate, he was in danger of being fired as a performer, until the Hollywood Minute segment secured his position.


Though most of the cast left in 1995, Spade stayed on the following year to help in the transition with the new cast. He then quit in 1996, citing "burnout" as the reason. Said Spade, "When I leave, it will be to ease the pressure, not to be a movie star. You can't stay there forever — it kills you inside. It ages you in dog years. It's a tough place." He returned to host an episode in 1998 and another in 2005.


Spade's attempt at a film career was met with mixed success. Movies such as Joe Dirt and Dickie Roberts: Former Child Star, both writen by Spade with Fred Wolf were, especially the former, not very successful critically, although both made back their budget and more. He worked with fellow Saturday Night Live cast member Chris Farley in the movies Tommy Boy and Black Sheep, in an attempt to form a modern-day Laurel and Hardy. The two were planning a third movie together when Farley died of a drug overdose at the age of 33. Spade did not attend Farley's funeral because he "could not be in a room where Chris was in a box."


Although he received several offers to star in his own TV shows, he turned them down and joined the ensemble cast of Steven Levitan's office sitcom Just Shoot Me!, which ran for seven seasons from 1997 to 2003. He played to type as a sarcastic receptionist Dennis Finch, which earned him an Emmy nomination and two Golden Globe nominations.


Spade hosted both the Teen Choice Awards and SpikeTV's Video Game Awards in 2003. He voiced characters on several episodes of Beavis and Butt-head, and produced his own TV series Sammy in 2000. From 2002 to 2006, Spade regularly appeared in commercials for Capital One with Nate Torrence, where he plays the employee of a fictional rival company whose policy toward honoring credit card rewards (and just about everything else) is "always no." In 2004, he joined the cast of 8 Simple Rules, following the death of the sitcom's star, John Ritter.


On September 5, 2003, Spade received a star on the Hollywood Walk of Fame. His star is located at 7018 Hollywood Blvd. He was recently the host of a new Comedy Central show, The Showbiz Show with David Spade, which began in September 2005. On the show, Spade makes fun of Hollywood and celebrities in a manner similar to his old "Hollywood Minute" segment on SNL. The Showbiz Show with David Spade was canceled in October 2007 after three seasons.


Along with actors Elijah Wood and Gary Oldman, Spade is one of the voice talents for The Legend of Spyro: A New Beginning, the sixth and seventh installment of the platform game series Spyro the Dragon. He provides the voice for Spyro's dragonfly companion, Sparx.


Currently, he stars as Russell in the CBS comedy, Rules of Engagement.